Those Women That Serve Us
Submitted by sudhama on Wed, 01/09/2013 - 9:08am.
When engaged in combat situations it only makes sense to say that the armed forces is a dangerous place to be. It only follows; people go in knowing this danger exists, though it is unlikely any person can be fully prepared for the horrors of war. The realities of bombs going off around them and the cries of the men and women fighting alongside them can't be prepared for with anything like even the most purposefully random drill or intensely real movie or video game. There are bullets, grenades and other devices being targeted at you with malicious intent, and there are no outcomes the enemy of the United States of America desires at that moment, but to see you dead.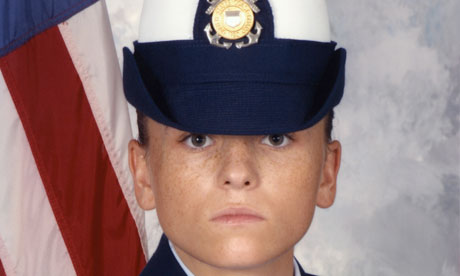 During peacetime, however, barring any training mishaps, an American military base should be the safest place on earth for those serving this great nation. It should be as secure as the US Mint, after all, what people would there be to pose a threat to our servicemen and women? What force on earth, save exceptions like the the man responsible for the Ft. Hood Shootings or Timothy McVeigh, could pose a threat to those soldiers?
Even during moments in our history when we are at war, back home and on bases located overseas, but in stable relatively peaceful regions, our men and women ought to be able to go about their day sans the worry of attack, as what place could be better for them than the base they are stationed at? Guarded by their own, policed by their own and trained to always watch each other's backs, that is what they continuously prepare for in squads, platoons and any other sized units they may train in. The mentality is to always be there for the people you serve with, to always protect them like a brother or a sister. After all, that's what they are as a part of the US Military.
The greater the person's rank, the greater the responsibility to protect and look out for the welfare of each and every soldier that falls under that person's command. The greater the rank, the more they should be ready to fight for the safety and security of every person that falls under their purview, with the kind of dogged toughness and focus befitting a US military officer. All soldiers must be protected regardless of considerations like religion, race or gender.
And this is the image many people have as civilians. We know nothing is perfect of course, but we view the military as being far more disciplined than the civilian world, and therefore, when a member is attacked or harmed in any way in 2013 by another military service person, we expect it is just not tolerated. We expect there are measures in place to deal with the problems, and bring about the kind of moral and honorable justice befitting the world's most powerful armed forces.
As such, it typically comes as quite a surprise when we find things out that prove, at times, just the opposite can be true of our military in terms of law, order and discipline. It's the kind of thing we don't often want to look at, it's the sort of thing we often turn away from when we hear it, because it hurts, and as such it is usually not considered polite conversation. However, facts prove there are times when military justice has huge holes and there are no higher-ups, and few outsiders in the world of politics, with the courage to step up and do a thing about it.
Perhaps the best and simultaneously saddest example can be seen in the victims of military rape. Our armed services have an atrocious record of rape, and when it comes to prosecuting the rapists, it's even worse. In fact, rather than protecting and making secure and safe the victim, the victim often gets blamed, and charged with things like adultery (because the rapist was married) etc.
Here are some startling numbers, "in FY 2010, there were 19,000 sexual assaults among Active Duty personnel […] In 2010, 1,025 actions were taken by commanders on the grounds of sexual assault, in 2011 there [were] 791 [actions taken] -- a decrease of 23%. The number of initiated court-martials fell 8%, from 529 in 2010 to 489 in 2011. The number of perpetrators convicted of committing a sexual assault decreased 22%, from 245 in 2010 to 191 in 2011." (http://www.huffingtonpost.com/nancy-parrish/rape-in-the-military_b_14345...)
This has been a growing problem and that can also be seen in the numbers just going back a couple of years. "The Pentagon said it received 2,923 reports of sexual assault across the military in the 12 months ending Sept. 30 2008. That's about a 9 percent increase over the totals reported the year before, but only a fraction of the crimes presumably being committed.
"Among the cases reported, only a small number went to military courts, officials acknowledged. The Pentagon office that collects the data estimates that only 10 percent to 20 percent of sexual assaults among members of the active duty military are reported, a figure similar to estimates of reported cases in the civilian sphere.' [. . .] That increase includes a jump in cases from combat zones in Iraq and Afghanistan, to 165 from 131 the year before.
"Congresswoman Jane Harman, a congressional critic of the military's handling of sexual violence, said the statistics show the problem is still rampant. […] the California Democrat said in a statement. 'Military women are more likely to be raped by a fellow soldier than killed by enemy fire in Iraq.'" (http://www.feministe.us/blog/archives/2009/03/18/new-statistics-on-milit...)
The military is in fact much more lenient when it comes to rapists and the like and does not protect the women that help protect us. As CNN put it, "If you serve in the U.S. military and you rape or sexually assault a fellow service member, chances are you won't be punished. In fact, you have an estimated 86.5% chance of keeping your crime a secret and a 92% chance of avoiding a court-martial. […] Staff Sgt. Peter Vega-Maldonado, admitted in a plea bargain to having sex with one woman. His punishment is 90 days in jail, 30 days of hard labor, reduction in rank and forfeiture of $500 a month in pay for four months. He will be forced to leave the Air Force but without a bad-conduct discharge.
"After striking this deal with prosecutors, Vega testified that he actually had improper contact with 10 trainees. He is not immune to further prosecution, but his admission of guilt cannot be used against him in future procedures. Each victim will have to come forward, and the prosecution will have to start from scratch." (http://edition.cnn.com/2012/06/21/opinion/speier-military-rape/index.htm...)
Recent numbers generated by surveys done at military academies have shown things are worsening. In fact, "Secretary Panetta expressed dismay at the figures themselves, which also showed that more than half of all women and 10 percent of men said they had been sexually harassed in the past 12 months. The response rate to the survey among the male and female students at the US military academies ranged from 67 to 88 percent." (http://www.csmonitor.com/USA/Military/2012/1221/Sexual-assault-reports-j...)
These numbers are well known, and though minor lip service has been paid, neither President Obama, Vice President Joe Biden, Secretary of State Hillary Clinton, Attorney General Eric Holder or really even Defense Secretary Panetta have had much if anything to say about this. I seriously doubt anybody will be interviewing ret. Gen. David Petraeus on the matter any time soon. But they should all be outspoken and vocal about protecting these women that have worked to carry out their orders, objectives and have risked their lives to protect theirs and every other Americans. To not do so is cowardly and shirking their responsibilities as American leaders that have the power to change this immediately.
These servicewomen have earned the right not to be raped and/or otherwise sexually assaulted on the job just as much as women do in civilian life. Recently, a judged dismissed a case regarding military women being raped and sexually assaulted, because in his words it was "an occupational hazard" inherent to the job. Really? So the message is, 'if you serve you have a really high chance of getting raped – much higher than in civilian life? Oh and, BTW, you might get killed by enemy fire but that risk is actually less.' Gonna wrap that around a Hummer, and park it outside a mall? How dignified sounding...
To read about my inspiration for this article go to www.lawsuitagainstuconn.com.